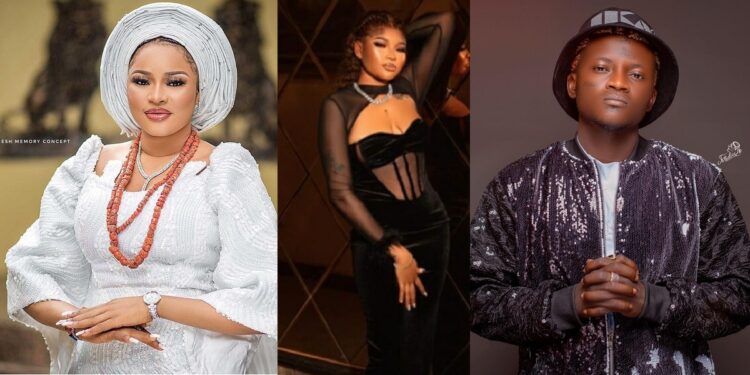 Controversial Habeeb Okikiola, also known as Portable, a Nigerian artist, has expressed his displeasure over rumours of an alleged love relationship with Queen Damilola, the ex-wife of late Alaafin of Oyo.
There have been reports that Dami, who was barred from returning to the palace following the death of Oba Adeyemi, is in a romantic connection with the 'Zazoo' crooner.
Although the couple has been mute about the rumours, a look at their Instagram pages reveals that they both expressed love to each other in the comments section at separate occasions.
Along with a succession of love emojis, the Zazuu Crooner and Queen Dami addressed each other as king and queen.
Dami had received harsh criticism for her involvement with the street music singer despite being a former royal wife.
In what appears to be a direct response to the flurry of comments, Queen Dami turned to Instagram to say that a relationship entails more than just being with a beautiful guy and embracing people for who they genuinely are.
Portable lamented on his Instagram page how bloggers are quick to post about his romance but fail to promote his songs.
The musician also slammed the infamous Instagram blogger who broke the news of Queen Dami's alleged romantic affair, saying his relationship is none of his business.
He captioned the video as follows:
"I beg make una dey post our progress. NA MUSIC WE DEY PROMOTE No Be relationships…. my MOVEMENT not YOURS Eyin Blogger Blogger."