David Adeleke, widely known as Davido, a Nigerian award-winning artist, has shown worry for a fan travelling from Taraba State to Lagos for a chance to meet with him. According to Naija News, this comes after the Afrobeat artist advised a fan cycling from Benue to Lagos to turn around because he is currently not at home. However, Dami4reign, a Twitter user, has announced plans to travel 828 km to see Davido in Lagos. The fan asked his fans to wish him luck and safety as he begins on the adventure in a post uploaded on his Twitter page.
"My name is Dami, and I just started my journey from Taraba to Lagos, which is approximately 828 kilometres, to see @davido," he wrote. Guys, please wish me success and a safe voyage." In response, Davido retweeted the post, expressing concern that the fan chose to travel on foot. He wrote, "With leg, nah Your body gonna tell you"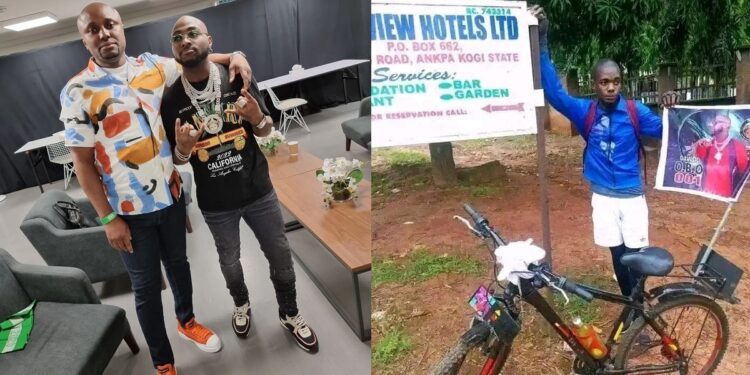 Meanwhile, Davido has released a new official video for DMW's latest signee Logos Olori's debut track, "Jaye Lo."
Remember how Davido drew hate when he first unveiled the 'Jaye Lo' visuals on social media last month? Muslims, particularly northerners, who found some portions in the video objectionable, chastised the award-winning artist .However, Davido announced a new music video for 'Jaye Lo' on his verified social media channels on Friday. Olori was seen flaunting his body and dance moves in the midst of several vixens in a new video obtained by Naija News. It's worth noting that Davido's DMW removed the contentious segment from the original video.